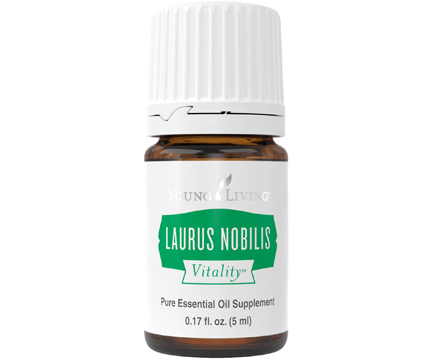 Laurus Nobilis is native to the Mediterranean region and is commonly known in cooking as bay leaf. Anciently viewed as a plant of good luck, its flavor is a common addition to many soup, vegetable, and meat dishes. Add a drop of Laurus Nobilis Vitality essential oil to any recipe to enjoy a distinct flavor and fragrance. Laurus Nobilis Vitality also has many health benefits, including supporting a healthy immune system, providing cleansing properties, and delivering powerful antioxidants.*
How to Use
 |
Get to Know
PRODUCT BACKGROUND
Laurus Nobilis is native to the Mediterranean region and is commonly known in cooking as bay leaf. Anciently viewed as a plant of good luck, its flavor is a common addition to many soup, vegetable, and meat dishes. Add a drop of Laurus Nobilis Vitality essential oil to any recipe to enjoy a distinct flavor and fragrance. Laurus Nobilis Vitality also has many health benefits, including supporting a healthy immune system, providing cleansing properties, and delivering powerful antioxidants.*

Ingredients
Supplement Facts
Serving Size: 1 drop
Bay (Laurus nobilis) † leaf oil
60 mg**
**Daily Value (DV) not established.
Product Snapshot
FEATURES & BENEFITS
Has a sophisticated, piney, and slightly bitter taste
Enhances many dishes, from soups to sauces
Contains powerful antioxidants that support a healthy lifestyle*
Provides support for a healthy immune system and cleansing properties when combined with a healthy diet*
AROMATIC PROFILE
From the bottle: Sophisticated, piney, and slightly bitter

Suggested Uses
APPLICATIONS
Use it as a seasoning for soups, sauces, marinades, stews, and pickles
Dilute 1 drop with 1 drop of V-6™ Vegetable Oil Complex and take as a dietary supplement for powerful antioxidants
Add 2 drops to hot water and enjoy before or after meals for Laurus Nobilis Vitality's cleansing properties

Add it to your favorite green juice or smoothie to help support your immune system*

EXPERIENCE
Laurus Nobilis Vitality offers significant benefits when taken internally and can elevate the flavor profile of many of your favorite foods, including roasted veggies, baked chicken, rich stews, even homemade pickles!

LABEL DIRECTIONS
Dilute 1 drop of Laurus Nobilis Vitality with 1 drop of carrier oil. Put in a capsule and take up to 3 times daily or as needed.

CAUTIONS: Keep out of reach of children. If you are pregnant, nursing, taking medication, or have a medical condition, consult a health professional prior to use.

*These statements have not been evaluated by the Food and Drug Administration. Young Living products are not intended to diagnose, treat, cure, or prevent any disease.