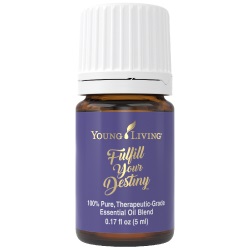 Fulfill Your Destiny™ is a complex and invigorating blend of nine essential oils: Tangerine, Frankincense, Nutmeg, Cassia, Cardamom, Clary Sage, Black Pepper, Idaho Blue Spruce, and Neroli. Sweet, spicy, and fresh, this unique blend can be used aromatically and topically to create an empowering atmosphere and encourage feelings of clarity and motivation. Fulfill Your Destiny will help you find the focus and drive you need to achieve your goals and unlock your highest potential.
Get to Know
PRODUCT BACKGROUND
Formulated for the 2017 International Grand Convention, this proprietary blend of nine essential oils offers an empowering, uplifting, and inspiring fragrance. Selected by D. Gary Young himself, each oil plays an integral role in the aromatic and topical profile of this one-of-a-kind blend. Cassia, Frankincense, and Black Pepper essential oils are bold and empowering; Tangerine, Neroli, and Nutmeg engage your senses and sweeten the aroma; and Clary Sage, Idaho Blue Spruce, and Cardamom offer balancing notes of fresh herbaceousness.

Fulfill Your Destiny essential oil blend joined the Young Living family in 2017 at the International Grand Convention.

Ingredients
Ingredients
Citrus reticulata† (Tangerine) peel oil
Boswellia carterii† (Frankincense) oil
Myristica fragrans† (Nutmeg) kernel oil
Cinnamomum cassia† (Cassia) leaf oil
Elettaria cardamomum† (Cardamom) seed oil
Salvia sclarea† (Clary sage) oil
Piper nigrum† (Black pepper) fruit oil
Picea pungens† (Idaho Blue spruce) branch/leaf/wood oil
Citrus aurantium amara† (Bitter orange) flower oil
†100% pure, therapeutic-grade essential oil
Product Snapshot
FEATURES & BENEFITS
Provides an empowering, clarifying, and grounding aroma

Enhances meditation practices

Creates an empowering atmosphere

May help smooth the appearance of healthy-looking skin

Encourages professional confidence and drive

AROMATIC PROFILE
From the bottle: Sweet, spicy, fresh aroma

Suggested Uses
APPLICATIONS
Inhale Fulfill Your Destiny during meditation or goal-setting to support spiritual awareness.

Place a few drops on the stationery of an encouraging note to a friend as a reminder that our destiny also involves how we interact with those around us.

Add it to your favorite lotion, conditioner, or body spray for an inspiring aroma that provides beautifying benefits to your hair and skin.

Add it to V-6 Vegetable Oil Complex to use in an aromatically soothing neck massage or relaxing foot massage.

WHERE TO DIFFUSE
Use the spicy-sweet scent in your bedroom or bathroom as you get ready for a new day.

Dive deep into office work with the refreshing aroma.

Create a safe space in your bedroom, living room, or personal space while you pray or reflect.

Find a collected and grounded perspective at home or in the office before an important meeting or networking opportunity.

EXPERIENCE
Uplifting, empowering, and inspiring, Fulfill Your Destiny essential oil blend is the ideal partner for your personal and business aspirations. You can depend on it whenever you're looking for a clarifying aroma to help you focus on your journey and to unlock deeper purpose in your life.

DIRECTIONS
Topical: Dilute 1 drop with 4 drops of V-6 or another carrier oil. Test on a small area of skin on the underside of your arm and apply to desired area as needed.
Aromatic: Diffuse up to 10 minutes 3 times daily.

CAUTIONS: Keep out of reach of children. For external use only. Keep away from eyes and mucous membranes. If you are pregnant, nursing, taking medication, or have a medical condition, consult a health professional prior to use. Avoid direct sunlight or UV rays for up to 12 hours after applying product.